We've past the halfway point of Round 1!  Is your top pick still in the game?
FILM BRACKET
The 90's Movie Icons
TEAM GISELLE: Emma Thompson in The Remains of the Day
TEAM CARMEN: Sharon Stone in Basic Instinct
EMMA THOMPSON
Luminous British actress Emma Thompson has played a whole roster of Giselles in her career, from repressed spinster Elinor Dashwood in Sense and Sensibility to Alan Rickman's long-suffering wife in Love Actually.  But we're giving the top prize to Miss Kenton, the housekeeper carrying a secret heartache she portrayed in The Remains of the Day.  She pines for Mr. Stevens, the uptight butler of Darlington Hall (portrayed with the perfect stiff upper lip by Anthony Hopkins), but he can't return her feelings, so she leaves to marry another man.  Years later they meet again, but still can't be together.  Heartbreak, loneliness, isolation, mourning for the life that could have been yours, sad music, rain . . . Thompson and Hopkins are devastating, and if you don't cry at the end, you're dead inside.
SHARON STONE
I may be asking for a smiting from the cinema gods by putting a Merchant-Ivory film up against a trashy thriller by the guys who made Showgirls, but I'm willing to take my chances.  Smoldering bisexual murder suspect Catherine Tramell is one of those cult film characters we're all a little embarrassed to admit we love so much.  In the hands of a worse actress, this whole movie might have been forgettable, or cheesy beyond belief (much like Showgirls); but Stone commits to the crazy, and takes it to another level.  That iconic interrogation scene alone puts her solidly in Carmen territory – passionate, stunning and a little bloodthirsty.  Shakespeare it ain't, but we love it anyway.
HISTORY BRACKET
The Biblical Bombshells

TEAM GISELLE: Esther
TEAM CARMEN: Delilah
  VS.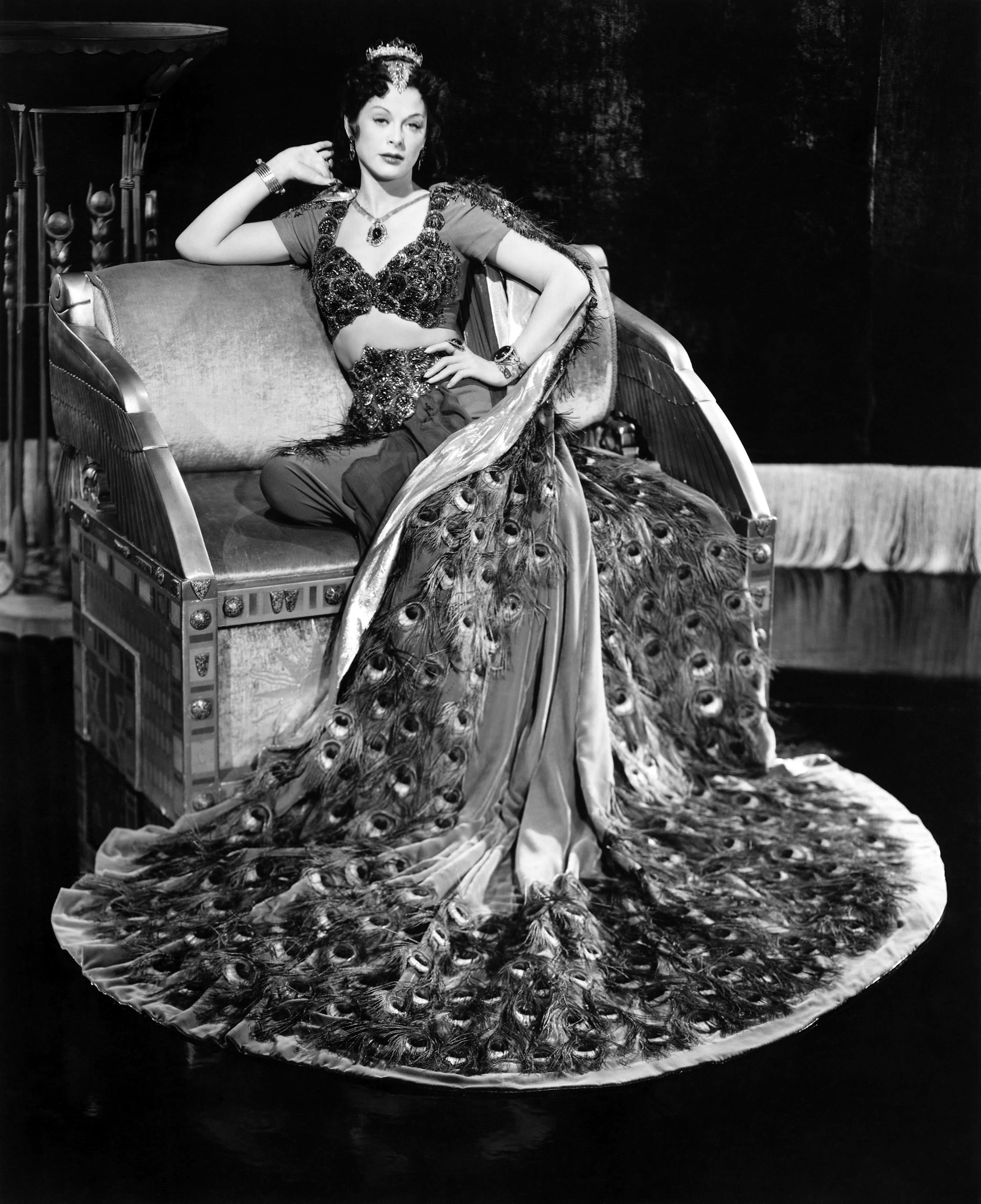 ESTHER
The story of Hadassah, the fearless Jewish heroine who uses her brilliant mind and feminine wiles to save her people from genocide, is one of the Bible's best soap operas.  Ahasuerus, a Persian king, is cranky that his wife Queen Vashti is not sufficiently obedient, and decides to toss her to the curb for someone younger and hotter.  Because as his friends pointed out, if the wife of the king can't be bullied into obeying her husband, pretty soon everybody's wives are going to be running around wearing pants and demanding the right to vote, and then what happens?  So Ahasuerus has his harem stocked with a flotilla of beautiful, willing damsels so he can go queen-shopping at his leisure.  One of them is the secretly-Jewish orphan Hadassah, called Esther, who is being raised by her cousin Mordecai, an honest man who has made an enemy of the king's evil prime minister Haman (who in my head looks exactly like Jafar from Aladdin).  Esther uses her charm and beauty to win over the king, but instead of squandering her newfound elevated status to become yet another spoiled Real Housewife, she takes advantage of having the king's ear in order to get some real work done – namely, convincing him to call off the genocide his BFF Haman has planned against all the Persian Jews.  It doesn't hurt her case that Mordecai foils an attempted assassination against the king, making it a lot harder for Haman to persuade Ahasuerus that Mordecai and all his people should be wiped out.  Esther takes her life into her hands, bravely outs herself as Jewish (a dangerous proposition with Haman still in power) and pleads with the king to save her people.  Which he does.  The Persian Jews are saved, Haman gets his comeuppance, and the feast of Purim was born – one of the only religious holidays we can think of that specifically celebrates a plucky teenage heroine.
DELILAH
Lyin' Delilah doesn't get a ton of stage time in the Book of Judges, but we all know the story.  Indestructible muscle-man hero Samson, the Bible's Chuck Norris, is granted supernatural strength by God to defeat his enemies, the Philistines.  Samson, who has some rage issues, is constantly committing feats of strength that seem less impressive than violent and psychotic ("He slew a thousand men using only the jawbone of an ass!"  "He ripped apart a lion with his bare hands!"  "He tied torches to the tails of three hundred foxes and they ran around burning down the fields!").  But he has a fatal weakness (because don't they all) – he's in love with the foxy Delilah, and she knows it.  Samson's enemies, the Philistines, presumably tired of being wiped out by the hundreds every time Samson coughs, decide to put the direct warfare on pause to go another route: they show up at Delilah's house with bags of money and offer it to her if she can find out for them the secret of Samson's inhuman strength.  Maybe she was into really expensive shoes, maybe she wanted a sports car, or maybe she just got tired of Samson constantly flexing his muscles at her and asking if she wanted two tickets to the gun show – but whatever it was, she took the money and got to work.  And this is where it becomes pretty clear that old Samson was more brawn than brains; Delilah asks him, "So, Sam, I was just wondering what the secret of your magical strength was," and he lies to her that he'd lose his strength if he was tied up with fresh bowstrings.  Which she does.  And of course it doesn't work.  So she asks again, and he gives her another lie which she tries out, and it doesn't work, and then it happens a third time, and right around the time you start to ask yourself, "Why is Samson still dating a woman who's tried to kill him three times?", she asks a fourth time, and for absolutely no good reason at all he just up and tells her the truth: he swore an oath to God that he would never cut his hair, and if he ever did, God would take away his strength.  And, in the totally predictable ending to absolutely the world's most completely preventable betrayal, Delilah cuts all his hair off in his sleep and calls up the Philistines to say, "Have at it."  The moral of the story?  If someone tries to kill you in your sleep three times, they're just going to keep trying until they finally hit the jackpot.
POP CULTURE BRACKET
The Tabloid Nemeses

TEAM GISELLE: Jennifer Aniston
TEAM CARMEN: Angelina Jolie
JEN
California girl Jennifer Aniston, America's favorite "Friend," made a career out of playing the girl next door.  For ten years she portrayed Rachel Green on America's favorite sitcom, evolving from spoiled Long Island princess to part-time barista to fashion industry titan, with a baby and numerous romances along the way (though we all knew she'd eventually end up with Ross for good).   You can say what you want about the traditional three-camera sitcom being a dead genre in this post-Arrested Development world we live in, but I will go to my grave maintaining that Aniston's impeccable comic timing has always been underrated.  Though not by Hollywood, who gave her an Emmy, a Golden Globe and a SAG Award for her work on Friends.  But it was her real-life fairy tale romance that catapulted her from TV celebrity to tabloid superstar when she married Brad Pitt.  The Hollywood golden couple seemed to have it all together (he even guest-starred on one of Friends' famed Thanksgiving episodes), so when the end came it felt totally unexpected.  (A seven-year relationship in Hollywood?  That's like thirty normal-person years!)  Post-divorce Jen gets hung out to dry by the tabloids as some kind of tragic spinster, which perpetuates the annoying stereotype that a girl without a man must obviously be totally miserable.  Ridiculous.  She's gorgeous, she's rich, she's young, she's smart, and she likes her job.  She's still our Rachel, and if she's happy, we're happy.
ANGELINA
The pre-Brad Angelina was a tattooed, bisexual Goth who did drugs, cut herself, mostly played troubled, crazy and/or violent characters, collected weapons, and was best known in the tabloids for wearing a vial of Billy Bob Thornton's blood around her neck while they were married.  (He wore hers, too.)  Though acting is in her blood (she's the daughter of acclaimed actor Jon Voight, though the two are estranged), her childhood aspiration was to become a funeral director.  Her evolution from angst-ridden bad girl to U.N. Goodwill Ambassador began around 2002, when she adopted her son Maddox from Cambodia.  By then a genuine movie star, Jolie had cleaned up her act but hadn't lost her provocative edge.  When she met Brad Pitt on the set of Mr. and Mrs. Smith, where they played a married couple who are both secretly high-priced assassins, Pitt was still married to Jennifer Aniston, and it became a paparazzi parlor game to speculate as to whether Pitt was cheating on his wife with his costar.  The two did not go public with their relationship until after Pitt's divorce was final, and have always maintained that nothing happened between them while he was still married, but it still took awhile for Angie to shake the "homewrecker" label.  These days, though both Pitt and Jolie still work regularly, their image is more family-friendly; their five kids are adorable, multilingual little hipsters and she's transitioned from Goth bad girl to Serious Actress With an Oscar.  And even though we're all grownups and everyone has moved on etc. etc., wouldn't you kill to be a fly on the wall if Angie ever bumped into Jen in the ladies' room at the Oscars?
LITERATURE BRACKET
The French Novel Heroines

TEAM GISELLE: Eponine from Les Miserables
TEAM CARMEN: Milady de Winter from The Three Musketeers
EPONINE
Victor Hugo's novel Les Misérables, and the classic musical of the same name, feature no shortage of tragic heroines – from Fantine, the impoverished dying prostitute forced to sell her own hair, to Cosette, her Cinderella-esque daughter, rescued from a cruel foster family by the heroic Jean Valjean.  But it's plucky waif Eponine who steals the hearts of both readers and audiences.  Small and scrappy, disguising herself as a boy to run unnoticed through the dirty Paris streets, Eponine is a tough and feisty street kid who knows how to survive.  She quickly finds herself an invaluable messenger and comrade to the young political rebels plotting uprisings throughout the city.  But underneath the oversized trenchcoat beats a mushy girly romantic heart; Eponine is smitten with the dashing student Marius, her fellow revolutionary, even though Marius has eyes only for boring old Cosette, innocent and pure as the driven snow.  Yawn.  When the French military is sent to attack the barricades, the determined band of freedom fighters rush to defend it; in the ensuing gunfire, the loyal Eponine throws herself in front of a bullet meant for Marius and dies in his arms.  (This is the scene in the musical where everyone, even the macho tough guy four seats down from you who got dragged to the show by his wife, bursts into uncontrollable sobbing.)
MILADY
In Alexandre Dumas' testosterone-fueled adventure novel, sexy French spy Anne de Breuil (alias Lady de Winter) provides a welcome shot of girl power.  The Musketeer-seducing, jewel-stealing assassin known simply as "Milady" serves as faithful right hand to the diabolical Cardinal Richelieu.  With a trail of dead or betrayed husbands a mile long (including Athos, one-third of the Musketeers) and the telltale fleur de lis sign branded onto her shoulder, marking her a convicted criminal, this dangerous dame manages to escape time after time to cause all kinds of international trouble.  The Musketeers capture her mid-espionage and foil her attempts to murder the Duke of Buckingham, but not before she's added Constance (the lover of apprentice Musketeer D'Artagnan) to her list of murder victims.  She's been played onscreen by smoldering sirens like Lana Turner, Faye Dunaway and Rebecca de Mornay, but watch for Milla Jovovich to take her scenery-chewing turn in the new film version coming out this year.
Voting is open in the comments!  GO!